Private/Semi-Private
Skating Lessons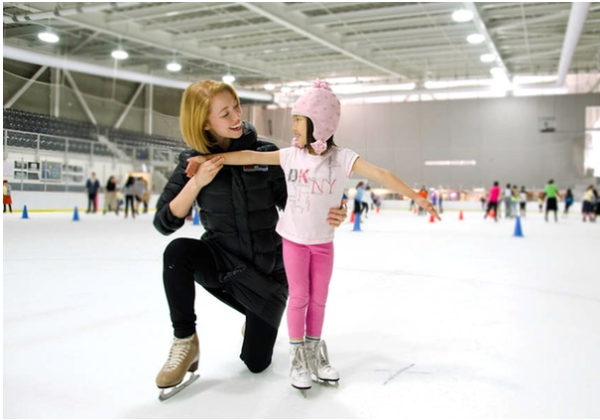 A private lesson is a one-on-one appointment with a member of our professional skating staff. Private lessons help to improve skills at any level and enhance your skating experience.
Our coaches are available for private or semi-private lessons on our General Skating or Freestyle sessions (this will depend upon your skating level and the skills you want to work on). (A semi-private lesson is for a maximum of two skaters.) To arrange for a private lesson, please complete our Private Lesson Request Form.
This form is submitted to our Skating Director who will connect you with a member of our coaching staff. You should expect a response within 72 hours of your request.
A few things to note:
· Admission and skate rental are not included in the cost of the lesson, which must be paid upon rink entry.
· All coaches are independent contractors. The agreement and schedule of lessons is between a skater and coach.
· Private lessons are typically 30-minutes in length. Additional time must be arranged with your coach.
· Snowplow Sam 1-4, Basic Skills 1-6, Fast Track Adult 1-6 are taught during public sessions or Coffee Club (for skaters 18 years of age and above).
· Freestyle 1 and above are taught during any freestyle session.
Client Expectations:
· Coaching fees are paid directly to your coach and are due at the time of the lesson.
· No more than two skaters are permitted in any lesson.
· Know your coaches' fees, scheduling, and cancellation policies.
· Provide your coach at least 24 hours' notice for private lesson cancellations, or full price may be charged.
· Lessons will not be extended due to lateness.
· World Ice Arena is not responsible for rescheduling any lessons.
· All admissions to the rink are nonrefundable. No credits, refunds or rescheduling. No exceptions.
Questions? Need more information? Contact the Skating School at skatingschool@worldice.com or call 718-760-9001 ext.7002